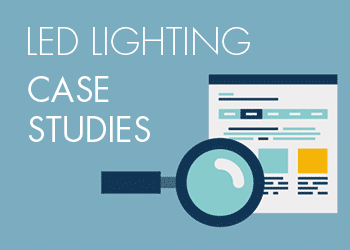 At Charlston Lights, we develop, design and test advanced LED lighting products to provide savings and effective results to our customers. We come across many industries daily with different cases and experiences. We felt that some of these cases should be shared, so that other people can get benefits from it. Here are the recent LED lighting case studies to learn how Charlston Lights has helped various customers for improvement in light quality and reduction in energy expenses.
1: Light Quality Problem
One of the reputed laminates and veneer showrooms contacted us with the complaint of Light quality of their previous installation. The showroom was renovated in 2011, when there were only few Indian manufacturers making LED lights in India. They got Chinese LED lights installed in whole showroom. In the beginning, showroom was shining with good illumination.
Soon they got complains from customer regarding change in colors of laminates. Customers found the color of laminates when reached at home, different from what they saw in showroom.
What happened here? The answer is Poor CRI(Color Rendering Index) of LED light they installed.
We predict the CRI 70 or less creates color variation. They also tried to install CFL lights instead of LED to solve the problem, but it provided less illumination and still the problem of CRI persisted.
We suggested our Cubie & Halo for the square and round fittings. They got superior illumination with high quality of CRI. All of our LED Lights are having CRI >80. We choose our diffuser carefully so that it doesn't change the CRI much.
2: Light Placement
Sometimes Interior designers consider only things that looks good. In such design concept they forget the functional design of lighting.
Another showroom owner came with their plan to us. We calculated the number of lights required in their showroom according to dimension. But we were shocked when we checked the light placement.
It was on the edge of ceiling in the corner and arranged in such a way, that 40% of the light output was going to be wasted on top of overhead cabinet. Customer realized the real situation, but he was unable to do any changes due to restriction in design space.
We suggest the interior designers and architects to plan the lights in as center as possible. This will provide proper distribution of illumination, reduce the numbers of lights and will also save power and money.
3: Commercial building illumination
We came across a very large commercial building for the purpose of illumination. There are more than 400 Shops and offices in that building. Each shop has electric point outside in the passage area. They were planning to install 10W LED lights in each point.  Their requirement was full lighting for security purpose at night.
We provided two 8W surface mount samples to install in two adjoining point. We also told them to try with skipping one point between two lights. With our high light output, they got enough illumination in alternate electric point. So, they finally decided to go with our 8W LED surface mount LED light and also reduced number of lights by 50%.
In this way they saved their 50% investment in LED lights and lifetime power consumption.
4: Industrial Building Illumination
Though we don't manufacture Industrial lights, but some non-solvent and non-hazardous industries can still use our LED lights without any issue. One such Industry came to us with the illumination requirement.
They required full lighting for the clear vision in CCTV monitoring and recording. Before that they were using CFL based industrial fittings. However, CFLs didn't last more than 2-3 months and dealer refused to provide warranty in Industrial purpose.
We suggested our 30W LeafLumina LED streetlight instead of 45W CFL. They got double illumination and clear vision in CCTV camera. Moreover, they are now free from headache of frequent replacement.
5: Interior of Home
Some customers are more worried about electricity consumption, as these expenses are considerable higher than the cost of LED lights. One of the luxurious bungalow owners came with the cheaper price-list of local brand. We compared their 12W panel light with our 8W cubie, and no doubt, charlston's cubie won. In some of the small rooms, we suggested to use only 4W Cubie.  They are having enough illumination and satisfied with power saving for the lifetime.